[ 4 min read ]
White City has been making a bit of a name for itself recently, and for all the right reasons. The area is undergoing a significant, long-lasting transformation: Westfield and the iconic BBC Television Centre have both been majorly redeveloped, whilst illustrious businesses including Publicis Media and Ralph & Russo have recently relocated their headquarters to the area.
One of the key reasons behind its sudden resurgence is the backing that White City has received from the council. The Hammersmith and Fulham Local Plan, released in February 2018, outlined an exciting, expansive vision to transform the area for decades to come.
This council-led regeneration plan aims to provide an estimated 6,000 new homes and 10,000 new jobs, making White City one of London's most enviable hotspots for growing businesses.
Read on to find out more about what's been happening, and what's in the pipeline for the near future.
Why White City?
In recent history, White City has been one of London's most deprived areas regarding income and employment. In fact, the 2011 Census found that the area's unemployment rate was 7.4% – compared to the London average of 5.1%
However, the area has lots of promise. Transport links are second to none, with connections to the Central line (White City Station), the Hammersmith and City and Circle and District lines (Wood Lane) and the overground (Shepherd's Bush).
There's also plenty going on in the area. White City is home to Westfield, the former BBC Media Village and Imperial College's newest innovation campus.
Given all this, the council are keen to throw their weight behind White City and turn it into a social and economic powerhouse for years to come.
What's been going on?
Westfield has recently undergone a staggering 740,000 square foot redevelopment, with over 80 shops being added and up to 8,000 total jobs created. It's now Europe's largest shopping complex! Going forward, this will continue to serve as the retail heartbeat of White City, and is a wonderful facility for residents and businesses alike to have on their doorstep.
The area has also solidified its newfound status as a creative hub by welcoming the Royal College of Art and ITV to the former BBC Media Works building, with all of ITV's daytime TV shows now being broadcast from the site.
Plus, White City House, Soho House's stylish offshoot, has brought their high-end style to the area and is rapidly becoming the place to be. If that wasn't enough, the state-of-the-art Yoox Net-A-Porter Tech Hub (a 70,000 square foot innovation space) has opened up in White City Place, quickly propelling YNAP to the forefront of fashion and design technology.
But White City is more than just a creative hub. Imperial College's Advanced Hackspace and Thinkspace brings together over 2,000 like-minded, entrepreneurial individuals with the aim of turning their most forward-thinking and inventive ideas into reality.
With exhibitions and events constantly going on, the college is also doing a great job of introducing the wider community as a whole to their exciting projects and research. Long may it continue!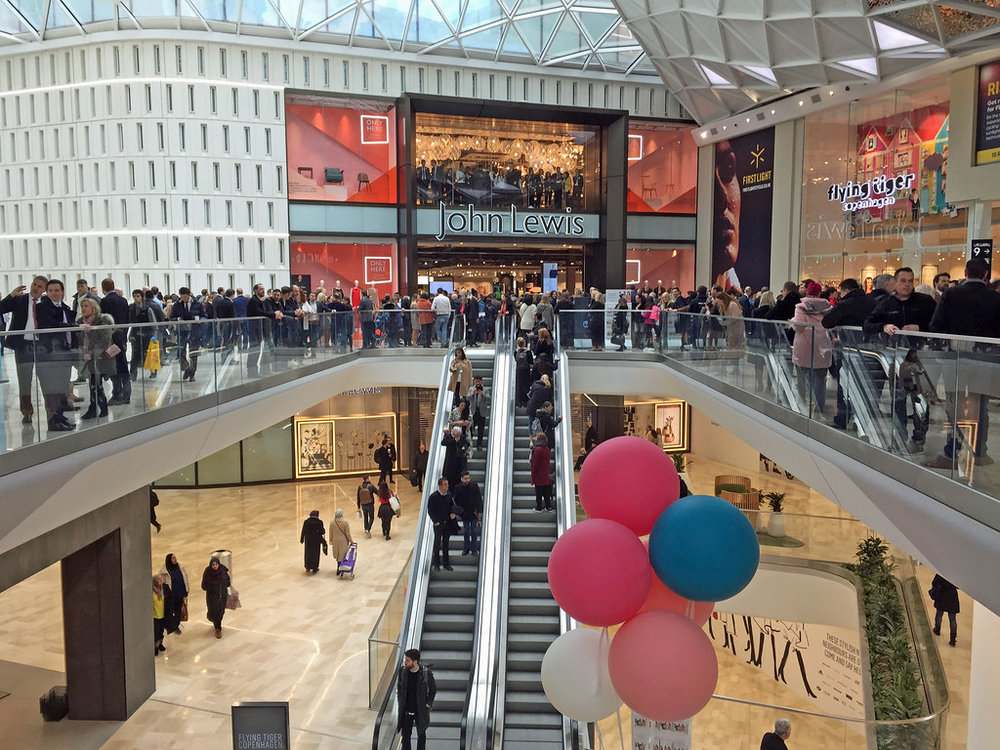 What's to come?
Yes, a lot has been going on, but there's still a whole lot more to come…
Shepherds Bush Market and the W12 centre will soon be undergoing significant redevelopment, joining Westfield as "retail anchors" of the local community.
It's hoped that this will bring renewed public interest and footfall to the area. To accommodate this, White City's already fantastic transport links will also be receiving further attention – the council has pledged a £3.9million improvement to Shepherds Bush Overground station, as well as introducing 578 new cycle parking spaces in the near future.
Business-wise, PR giant Publicis, haute-couture fashion house Ralph and Russo and life sciences firm Novartis will soon be relocating their headquarters to White City. Their arrival is set to solidify the area's burgeoning reputation as London's next great business hub.
This is something we're extremely passionate about at Scale Space as we hope to welcome the city's most innovative and disruptive scaleups, helping them grow into true world-beaters. Having such great neighbours will only serve to aid us in this mission!
Likewise, Hammersmith and Fulham Council are committed to helping local businesses thrive, pledging £600,000 to maximise job opportunities going forward through training and apprenticeships for local residents.
Finally, it's worth remembering that it's not all about business. The council has also planned to transform the local community's fortunes through the introduction of a £65 million 'Education City', which will provide a new school, nursery, adult educational centre, youth centre and more than 130 flats, as well as building a two-hectare park to provide the area with some more green space.
The local arts scene has also received a significant boost, with Troubador opening a brand new 1,200-seat theatre and an 800-seat flexible multi-purpose venue right by White City Place. Complete with an on-site bar, these will be great spots to catch a play, film, or concert after work.
So?
White City is quickly becoming London's next big thing. Fancy joining London's finest creatives, entrepreneurs and academics in this up-and-coming area? Get in touch to find out how Scale Space can accommodate your growing business!