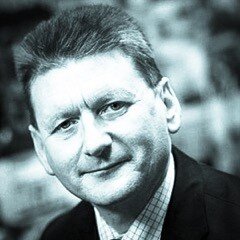 [ 8 min read ]
Lee Williams has 25 years leading successful innovation, business growth and digital strategy. These days he focuses on startup investment, as well as advising boards on growth strategies. Here, he shares his experiences on driving revenue and scaling businesses within leading digital marketplaces across the globe.
Tell us about your expertise and experience helping scale and sell companies?
I've got over two decades of digital leadership experience, particularly in media and publishing, but also across luxury and property sectors. One of my earliest scaling experiences was leading the digital transformation of Auto Trader website back in 1996/97, which is now recognised as a best practice case study and worth over £3 billion.
My work with the Daily Mail Group in 2011 involved building a new startup digital arm out of their regional press business, so they could sell it. This then became the first profitable regional digital business in the UK.
The last three years have seen me consulting on successful online publishing acquisitions, as well as investing and helping startups, such as WhatHouse.com. fast track.
In your opinion, what are the biggest barriers to success that startup companies face when trying to scale?
There are three primary issues – financing, people and speed.  Finding finance for the original idea is a given, of course. But the people and speed challenges are more complex. On the people side, it's about finding the right people who truly know their subject matter in a world of digital hype – which is a major challenge – and then recognising that you're also going to need additional skills and advisories in your model.
Speed-wise, the challenge is getting to market first, fast, and right, before anyone else does, because existing players or new entrants will also be working on the same sort of business, no matter how unique you like to think you are. And the word 'right' is key here: too many people don't spend enough time getting their product tested quickly and correctly before they scale it.
What about the environment, how influential is the workspace in which scale and sell businesses are operating?
The physical space is 100% critical to their success. In the early days it's about building your own space in which people can live and dream, ensuring the business is what they eat, breathe and sleep, and remaining as focused as possible. I've learned that building a culture around winning, an 'us against the world' mentality' is key to getting teams to buy into that focused ethos. But you need to do it in a flexible way which helps them create an environment and space which they feel is also their own.
It's also important that the space has the capacity to move up or down with your fortunes. It needs to be dynamic – a place where you can easily create a culture for different personalities, age groups and lifestyles, but where you can also interact with other experts, your holding company and have like-minded attitudes around you. If you've got other entrepreneurs and people working at pace around your environment, you'll also absorb and step up to that energy.
So, would you say being part of a community a really valuable asset?
Yes, it is.  As you can feed off each other's drive, focus and buzz in a community.  And the right organisation running the environment should ensure that the community is filled with like-minded companies who complement each other's energy, who are similarly self-motivated and focused.  Maybe you could even do business or network with some of them.  And when you have guests, clients and potential partners come in, they'll like it too: they'll feel you're in a space that's moving.  People like to see activity, and success, and brains.
What advice would you give to somebody who is looking to scale a business that isn't a startup? For example, WhatHouse.com, who you're working with at the moment, has been around for quite a while. What's the approach that you're taking there?
I normally find there is lots of great ambition and ideas, but, like most organisations, there's just too much to do. So, focus and decluttering is key. You need to focus on what really is your key differentiator?  How are you changing, or improving the consumer experience or their world? What's the core problem you're trying to solve, and are you doing that well? If you weren't there, would their lives be materially, intellectually or financially poorer?
I always tell businesses to quantify whether they've got a number of meaningful clients, consumers or businesses whose worlds they have materially changed. If so, that's the ultimate success factor.  That's the moment you can have confidence to scale up. If it's all qualitive with positive feedback – it's a great idea, it sounds right, it feels right, people say they like it – but they aren't really buying it, you know you've still got work to do.
On the scale revenue journey, focus on key clients and segments to drive success from your limited resources. Any investment might look like lots of money, but the reality is that there's always a competitor around the corner with more. When you've segmented those customers you're going to target, the ones who you're going to make fall in love with what you do, then you can quickly roll out other products and regions. And don't just focus on building new customers and forgetting about your current ones. It's true that it's often cheaper to maintain and grow customers than attract new ones. So, ensure your customer retention, growth teams and processes are on it.
You've helped businesses scale up in different sectors, from luxury, to media, to property. What do they have in common or have you encountered one sector which has a different need?
The challenges are exceptionally similar across all sectors. However, some industries do attract certain types of people, so it's about understanding what their strengths are, as well as the weaknesses that you need to develop or bring through from the wider team.  You need to try and find that magical 10-20% of industry difference – the knowledge, experience and psychologies that can exist specifically within that sector – and support it accordingly.
What advice would you give to somebody who is at that pivotal point where they can scale? What should they be prioritising? And how important is culture in that moment of change?
Building a culture in a startup, with a limited number of people, is relatively simple. You've got a huge amount of contact with them, with lots of active support and collaboration. When you become bigger, it becomes tougher. When recruiting, you need to find people with the right fit, but you're going to be moving at pace. So, I would say, keep building and revising your model behind the scenes. Keep asking yourself, what does the future look like? If we hit these numbers and this position, how's it going to look in terms of the structures and the types of people we need? And do that on an ongoing basis, not just when you need to recruit.
For instance, if, come June, you've achieved all your targets and you need to scale up and recruit, you need to have forecasted that six months earlier. Otherwise, the right people will be sitting on their six-month exit contract and not able to start with you until December. So, your actual growth position isn't going to kick in until January, start having recruitment conversations early, and do it honestly. Tell them that you're growing, it's an exciting time, you're not quite ready to hire yet, but you will be soon.
Should you have a pool of talent that you can tap into?
Absolutely, particularly at higher levels.  And ideally, you'll have met them enough, and at an early stage, to have built up a good 360 degree view of who they are and how they're a good fit for you.
When you're in a rush, the danger is that you can hire someone just because you've got to fill a space. If you're really scaling up and you've got a fabulous HR team to support you, that's terrific. But it's a luxury many don't have. Again, working in a community environment with advisers on tap should mean that you have access to additional, flexible support to guide you through the process.
Tell us a little bit more about what you've learnt in terms of approaching sales effectively when it comes to high growth businesses?
One of the most common things you see in all of the early stage and scale-up decks is large revenue blips instead of a consistency of growth. When you've got a new idea, you tend to promote it immediately, which will easily result in three or four months great revenues. But that's not real revenue. Real revenue is repeating revenue. Whether it's with consumers or with trade, it's locked in revenue that shows people coming back because they love your product.
So, firstly, ask yourself, can you see evidence of that repeat, long-term revenue? Secondly, keep in mind that, although you may be racing to drive a revenue line, not all revenue is right for your strategy. That's a tough lesson to learn when you're running a startup.  It's easy to divert to an easy revenue stream that won't ultimately drive your proposition. You can avoid that trap by being honest with yourself about whether you're building the right revenue that's core to your business strategy.
What do you know now that you wish you'd known when you were younger?
Well, unfortunately, when I was younger, I made the common mistake of thinking I knew everything! But really, I should have recognised those areas in which I needed help, then reached out and found the right person to help me. The world keeps changing, but the fundamentals of business management stay the same, and finding the right support and advisors will always be crucial.